AN INTRODUCTION TO | COPPER FOILED STAINED GLASS
Stoodleigh Court Coach House is hosting
COPPER FOIL STAINED GLASS WORKSHOPS

MEET THE ARTIST
Helen Fonnereau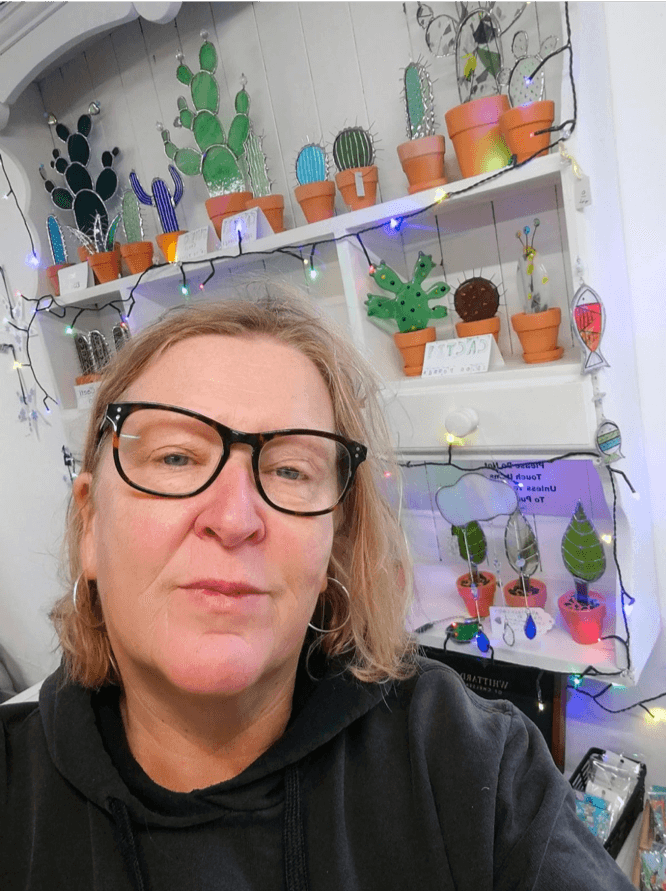 Our stained glass copper foiling workshops are taught by Helen Fonnereau. Helen has been working with glass for over 15 years, mainly making small decorative items for the home but sometimes larger panels as commissions. Helen has a BA Hons in the Study of Art from Anglia Ruskin University, Cambridge. You can find her on Facebook as Helen Fonnereau Glass!
The Stoodleigh Stays workshops will give you an introduction to the processes of making a glass piece and at the end of the workshop you'll go home with a small suncatcher or panel.
On the stained glass workshop you'll be learning the technique of Copper Foiling which is the alternative to the traditional leaded glass windows we are mostly familiar with. The technique where copper foil is wrapped around glass and then solder used to join the glass together, was adopted by Louis Comfort Tiffany allowing him to create more intricate designs seen in his windows and 'Tiffany' lamps. Copper foiling is an adaptable method of creating all sorts of art in glass from large scale panels to smaller decorative suncatchers, in fact once you learn how to copper foil the only boundary is your imagination!
Fantastic day. Many thanks to Rosey for hosting and to you Helen for a glimpse into the world of endless glass creation.
Attended a "Smashing" course held at @stoodleighstays learning how to work with decorative glass today. Thank you for your hospitality, Rosey , Pumpkin soup was delicious, and to Helen from Cove Garden Nursery for her expertise and patience.


M: +44 7796 670408 | T: +44 1398 351206
Find us on Google Maps